Rent-A-Maple leases are $45 each and must be received by February 3, 2017
We are offering a unique opportunity to participate in our Maple Syrup season while helping to support the Troy Nature Society and the Stage Nature Center (SNC) by renting a maple tree inside the SNC's sugar bush.  By participating in the "Rent-a-Maple" program your name (or your family name) will hang on your tree for the entire maple syrup season - recognizing your support of the Stage Nature Center.
Each participant will be invited to attend a tree tapping event on February 25th where you can help tap your tree! All who attend this event will receive a "Maple Syrup Box" that contains a variety of maple goods!  (See complete list below).
RENT-A-MAPLE REGISTRATION FORM Complete this form and email to Christina@troynaturesociety.org
PURCHASE YOUR MAPLE RENTAL HERE (Form must be submitted  before payment is made)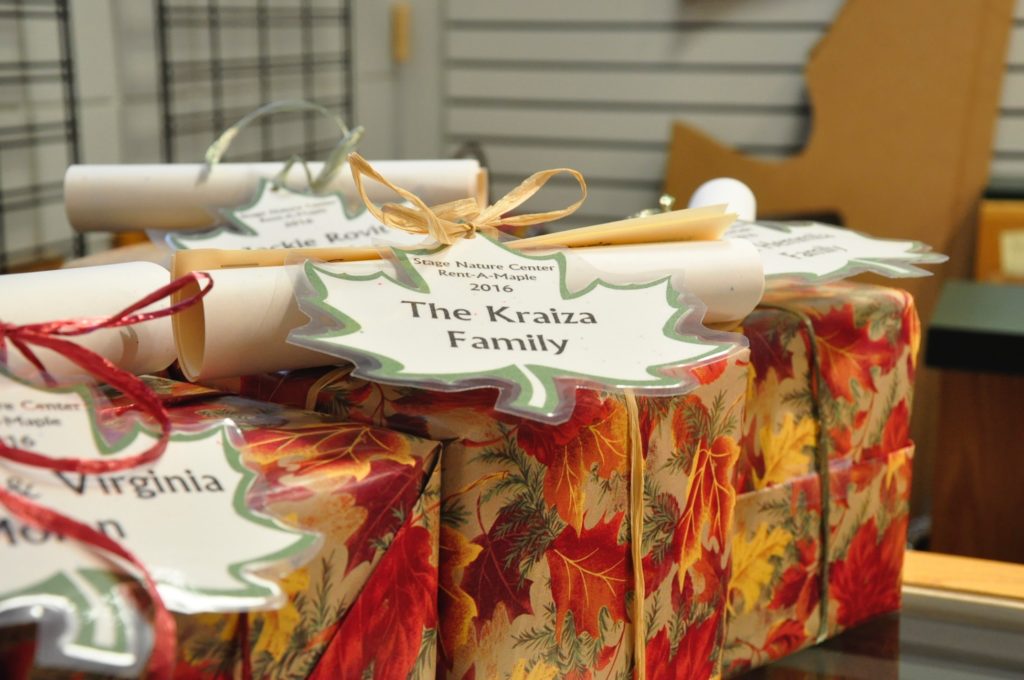 With your sponsorship, you will receive a Rent-A-Maple Syrup gift box that will be available for pick up at the Stage Nature Center office starting on February 25, 2017 and contains the following:
A spile for tree tapping at home
One pint of pure maple syrup
Maple sugar candy
Other special surprises
A "certificate of appreciation"
SNC's Sugar Bush News
Help Tap Your Rented Maple Tree!  On the morning of February 25, 2017 you and your family have the opportunity to help tap your rented maple tree. After tapping, you are invited back to our interpretive building to warm up & mingle while enjoying hot cocoa and donuts.

Maple Syrup Time Past & Present :   March 4th, March 11th, or March 18th 
Join the Stage Nature Center and the Troy Historic Village on 3 Sweet Saturdays in March! Discover how maple trees make sugar and people through the ages have harvested it. This family-friendly program highlights natural and local history of our region. Learn how people processed maple sugar 100 years ago and see similarities in the process of collecting, boiling and drawing off maple syrup today. After seeing syrup made in a modern-day wood-stoked evaporator, you'll enjoy mini-waffles topped with real maple syrup and another sweet treat - maple cream!
Registration Fees:  Ages 13-Adult:  $9  | Ages 4-12 years:  $6 | TNS or THS members:  $6 
| March 4th | March 11th | March 18th |
| --- | --- | --- |
| 9:00am | 9:00am | 9:00am |
| 9:30am | 9:30am | 9:30am |
| 10:00am | 10:00am | 10:00am |
| 10:30am | 10:30am | 10:30am |
| 11:00am | 11:00am | 11:00am |
| 11:30am | 11:30am | 11:30am |
| 12:00 Noon | 12:00 Noon | 12:00 Noon |
| 12:30pm | 12:30pm | 12:30pm |
| 1:00pm | 1:00pm | 1:00pm |
| 1:30pm | 1:30pm | 1:30pm |
| 2:00pm | 2:00pm | 2:00pm |
| 2:30pm | 2:30pm | 2:30pm |
| 3:00pm | 3:00pm | 3:00pm |