Programs for Children
---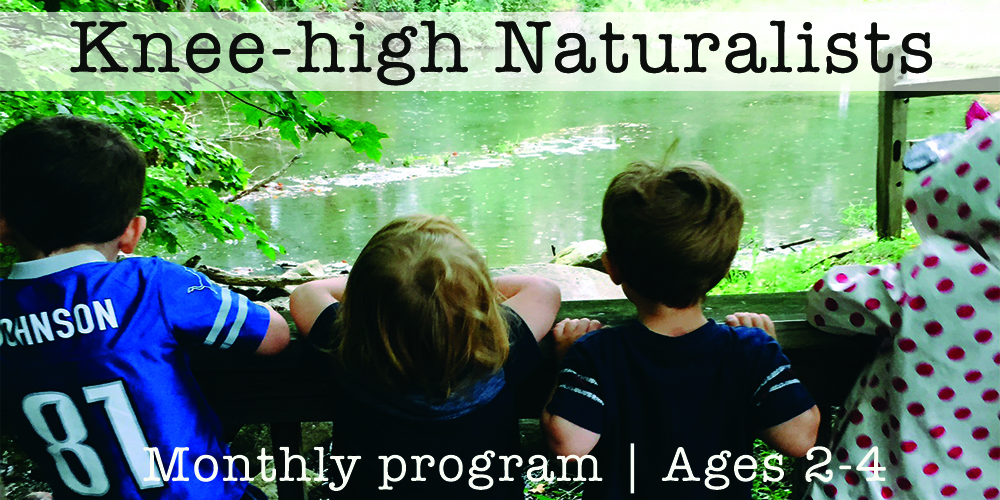 Knee-high Naturalists at Stage Nature Center | TNS Members:  $10 | Non-Members: $13 | Adults free | Each monthly session offers:
A nature-related theme designed for children ages 2-4, the session starts with a fun craft followed by activities that reinforce the day's lesson. The group then heads outside for an outdoor trail hike, guided by nature instructor Lori Brown.  Some of the outdoor activities include looking under logs, searching for wildlife and their tracks, exploring our pond and observing how each different parts of nature interact.  Some things children may see along the trails include deer, turkeys, owls, squirrels, birds and insects. Each hike is followed by an indoor nature story and a snack. This program is one of our most popular programs for little nature lovers, registration fills up fast - be sure to register early!
Sensing Spring
Our Knee-high Naturalists will learn about our senses by searching for signs of spring like flowers, new leaves and animals waking up from their winter sleep.
Thursday, April 19th | 10am - 11:30am | Sensing Spring
Friday, April 20th | 10am - 11:30am | Sensing Spring
Froggy Adventure – During this session we will be out on the preserve searching for frogs. Each participant should come wearing sturdy boots as we will be exploring near water areas.
Thursday, May 17th | 10am - 11:30am | Froggy Adventure
Friday, May 18th | 10am - 11:30am | Froggy Adventure
---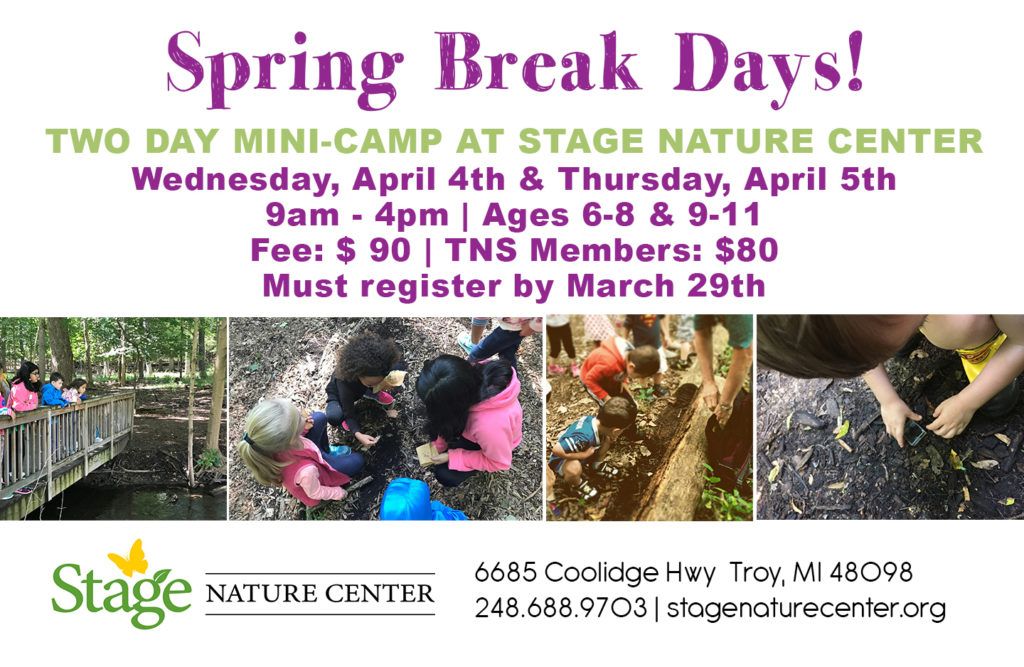 Register your 6-8 year old Spring Break Camper
Register your 9-11 year old Spring Break Camper 
---
 
Little Acorns | TNS Member: $3 | Non-Member: $5
Let your child explore the sights and sounds of nature through outdoor activities. This program will take place outside, except in the event of inclement weather. Bring children in strollers that are sturdy enough for a wood chipped trail. The adult partner is free and must accompany the child throughout the program.
Register by selecting your preferred date:
Tuesday, April 10th | 11am - 12pm
Wednesday, May 23rd | 11am - 12pm 
---

Monthly Saturday Program | 10 am-12 pm | Grades: K-2nd & 3rd-5th 
Here's a great way for children to explore nature. Each month, they will dive into new discoveries about the outdoor world. Children will learn through hands-on activities, hikes and crafts. Each child will receive a "passport" at the first session and will receive stamps at each program they attend to earn some great prizes. Sign up for sessions individually. No need to commit to multiple sessions.
TNS Member Fee: $10 | Non-Member: $13
Register by selecting your date of choice:
Grades K- 2nd | April 14th | 10am - 12pm | Spring Comes to the Forest
Grades 3rd - 5th | April 14th | 10am - 12pm | Spring Comes to the Forest
Grades K-2nd | May 12th | 10am - 12pm | Animal Life
Grades 3rd - 5th | May 12th | 10am - 12pm | Animal Life
---