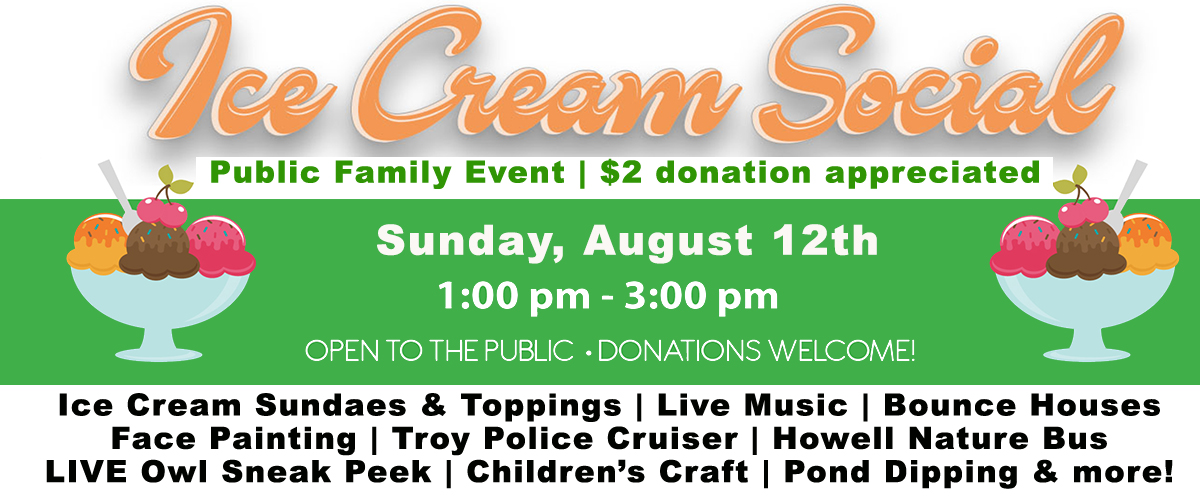 The Annual Ice Cream Social is our way of saying "thank you" to the community and to our partner, the City of Troy for allowing us to provide educational programming that gives visitors a better understanding of the natural world and inspires good stewardship of the environment to all who enter our doors and trails.
Visit Vendor Rowe (New!)
When you arrive at the Stage Nature Center, please visit our vendors who will be selling a variety of nature-related and/or hand-made products.  
Garden Outside the Box - Specialty garden seed kits by Nicole Fleming

Boy Scout Wyatt Lucas -  Owl Fundraiser T-Shirts - 100% Net to SNC

D's Bees and Blooms - Natural beeswax products, seed bombs and more

Friendship Bracelets by Shannon - 100% of sales to SNC

Ron Rademacher - Michigan Back Roads & Nature books - 50% of sales to SNC

CJ Benninger - Photopopprints for sale.
When registering for this event, we are asking for a $2 donation (per person) to attend.  There are only 200 complimentary tickets available.  Registration deadline is August 10th. Entry on the day of the event is $2 at the door for those who have not pre-registered.

Thank you to our 2018 Sponsors!

Links to our sponsors:  Howell Nature Center | Big Boy Rochester Hills, MI | Oakland County Parks |Rotary Club of Troy | L.L.Bean Partridge Creek | McDonald's | City of Troy Police 
View Photos from last years event here!
---

IF YOU WOULD LIKE TO VOLUNTEER FOR THE ICE CREAM SOCIAL:
Complete a volunteer application and submit it to Email Here DOWNLOAD HERE
Review the open positions HERE.
Join us on August 12th for your volunteer shift and free ice cream!