Stage Nature Center Video Contest
Calling all Troy students | Grades K-12!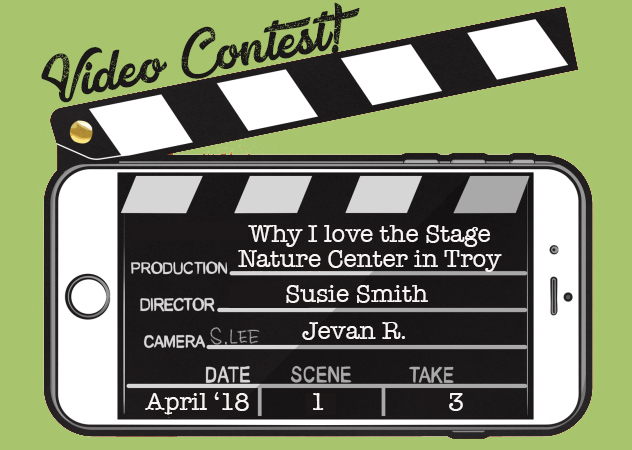 Stage Nature Center is encouraging students in grades K-12 to utilize their video skills by creating a unique & creative introductory video "short" featuring the Stage Nature Center.  The video should focus on the many benefits that the nature center has on our community. Each video submission will be judged based on the creative method used to engage students and help them realize the importance of maintaining a green environment and the important impact nature has on our daily lives.
Video Guidelines:
All video entries are due by April 18th, 2018 by 11:59pm EST. 
Video submissions should be no longer than 2 minutes 30 seconds
The video submission must feature the Stage Nature Center grounds and can answer one or more of the following questions:

What is the Stage Nature Center?
What will you see when you visit the nature center?
How does nature benefit our community?
Why do you think nature is important?

Videos shall be submitted electronically to: Email Here (if size permits) or Via Google Drive to the same address.
How will the voting be conducted?
Submissions will be uploaded to the SNC website by April 19th and the public will vote on which video most effectively captures the essence of the Nature Center.
The top three (3) videos will be voted on by the Stage Nature Center staff & two designated volunteers
The top three (3) will be announced on April 26th via Facebook Live on our business page. 
An official award ceremony will be held at the Stage Nature Center on August 25th where the top three submissions will be recognized and a First Place winner will be announced.
The winning submission will be used as the primary introductory video for the Stage Nature Center and the student(s) who submit the video will receive a $50 gift card!  If two students submit a video they will each receive a $25 gift card.
Contest Guidelines:
Participants can be any student residing in Troy (home location) or part of the Troy School District.
Participants can be from any of the elementary, middle, or high schools within the Troy School District.
One (1) video can be submitted under the name of 1 to 2 students from any grade level. More people may be featured in the video and can be involved in making however, only 2 can be entered into the contest.
Any video submissions with inappropriate language or imagery will be disqualified. (adhering to the Troy Student Code of Conduct)
All work should be the original thought of the creator, with citations where necessary.
No copyrighted material is allowed in the submission including music.  Legally downloaded music is OK.
Prizes will be awarded in each category: Elementary, Middle, and High school-- based on judges' comments.
If you have any questions about your submission, please contact the Stage Nature Center at moc.l1542194038iamg@1542194038gnite1542194038kramc1542194038oseru1542194038tanyo1542194038rt1542194038
Good Luck!
Video Sample | submitted by Levi C. | Wass grade k: