Meet the Stage Nature Center Owls
Learn More about Arguile
Arguile is the older of our two Barred Owls. He has an injury to his right foot which causes it to twist inward. He is welcoming to his handlers and observes people very intensely.
Learn more about Autumn
Autumn is a Great Horned Owl who is the oldest of all of our owls. She isn't as friendly as some of the others, but she certainly is one that is interesting to watch.
Learn More About Mortimer
Mortimer is a Screech-Owl who has an injury to his left eye which you can sometimes see.
Learn More about Rito
Rito is a Screech-owl and lives with Mortimer. Rito isn't as comfortable with people as the other owls because he is new to captivity.
Learn More About Sam
Sam is a Barred Owl and is one of our more talkative owls. She often calls out to people who say her name. Sam is the most comfortable around people.
Meet Christina Funk
Christina is the Assistant Naturalist and owl handler at the Stage Nature Center. Christina was instrumental in bringing the owls to the SNC after the closure of the Organization for Bat Conservation, where the owls resided before they came to the nature center.
Fundraising efforts for the SNC Owls are underway
Although we are getting closer to our goal of raising $20,000 for the owls, we still need donations for our "Owl Fund" to ensure that we can move forward with our plans to construct a permanent "owl house" without any worry of financially falling short.
The Stage Nature Center has a goal of raising $10,000 for the "Owl Fund" and a portion of the fund will go towards the construction of the permenant owl house, and the rest will go towards the long term care of the owls.
Boy Scout Wyatt Lucas also has a goal of raising $10,000 for the "Owl Fund". He has hosted three bottle and can drives (the next is scheduled for July 7th), has been selling Owl t-Shirts and has set up an online fundraiser on Facebook called "Wyatt's Fundraiser for Stage Nature Center" which will accept donations online until June 20th. After that date, Wyatt will still accept donations for his fundraiser but it will not be reflected on his fundraising page. 100% of funds collected from Wyatt's fundraising efforts will go towards the construction of the permanent owl house at the nature center.
Our overall goal is to raise at least $20,000. Between the efforts by Stage Nature Center and Wyatt Lucas, we believe we can reach this goal with your help. Below are all the ways you can contribute to our "Owl Fund", every dollar helps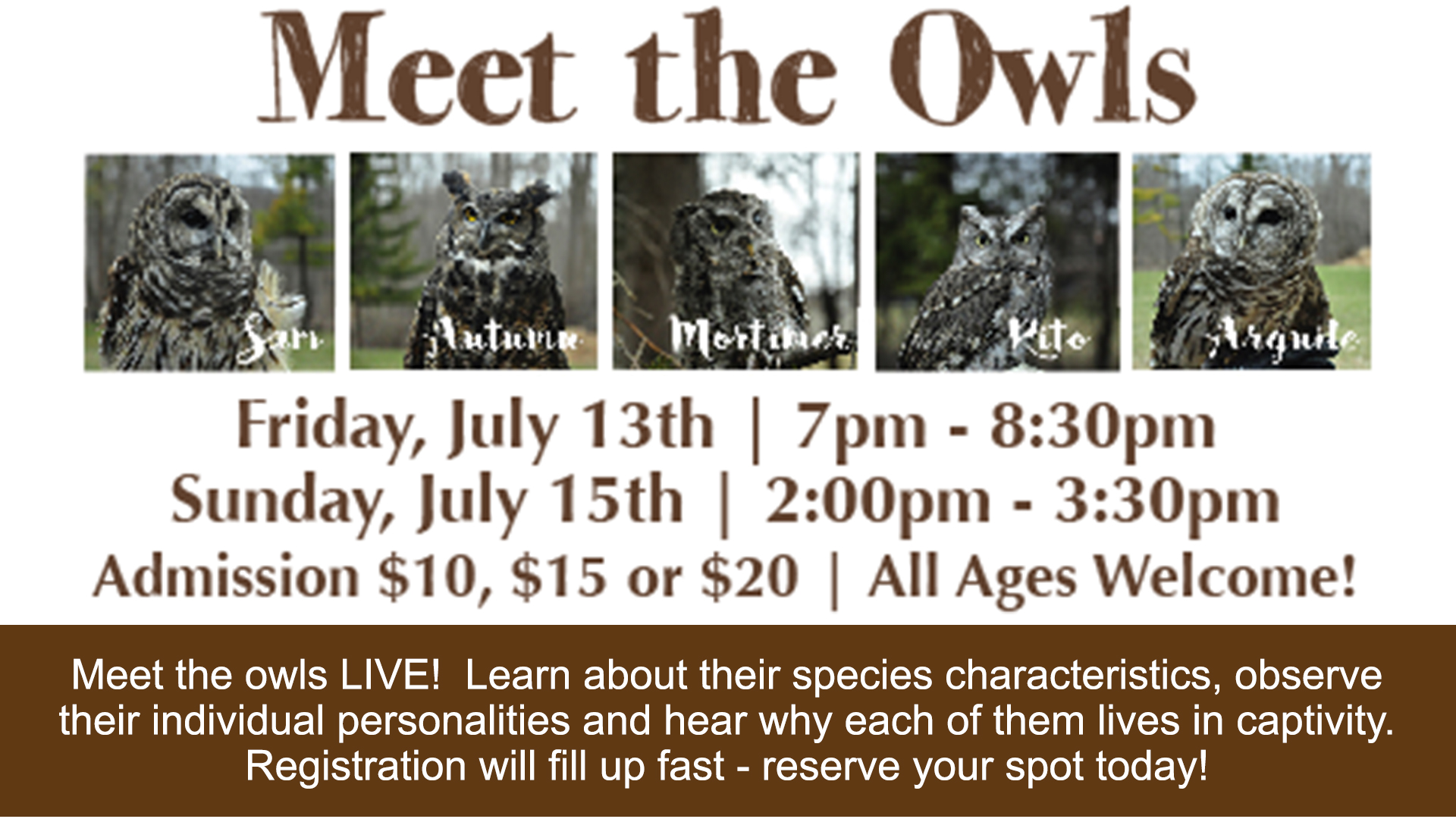 PHOTO JOURNAL | Meet the owls - April 29th
We had a great time at the "Meet the Owls" program and had a very strong turn out! We look forward to hosting another program soon, stay tuned as we work out the details!
Sponsorship opportunities
Premier Sponsorship
Sponsorship:  $1,000
Includes the following:
Private "Meet the Owls" Tour for up to five (5) guests
Certificate of support + 8x11 owl profile
Large owl plush 
National Geographic Owl Book
Gold Sponsorship
Sponsorship: $500
Includes the following:
Certificate of support + 5x7 owl profile
Small owl plush
National Geographic Owl Book
Silver Sponsorship
Sponsorship: $250
Includes the following:
Certificate of support + 5x7 owl profile
Owl Finger puppet
National Geographic Owl Book
Bronze Sponsorship
Bronze Supporter: $100
Certificate of support + 5x7 owl profile
National Geographic Owl Book