Arguile – Barred Owl
Arguile is the older of our two Barred Owls. He has an injury to his right foot which causes it to twist inward. Click here to view Arguile's fact sheet
Autumn – Great Horned Owl
Autumn is a Great Horned Owl who has been living with people the longest of the five owls. Click here to view Autumn's fact sheet
Mortimer – Screech-Owl
Mortimer is a Screech-Owl who has an injury to his left eye which you can sometimes see. Click here to view Mortimer's fact sheet
Rito – Screech-owl
Rito is a Screech-owl and lives with Mortimer. Of the five owls, Rito is the newest to captivity. Click here to view Rito's fact sheet
Sam – Barred Owl 
Sam is a Barred Owl and is one of our more talkative owls. She often calls out to people. Sam is the most comfortable around people. Click here to view Sam's fact sheet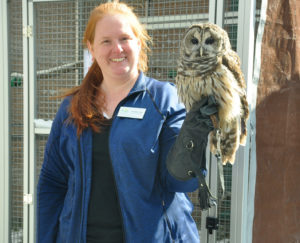 Meet Christina Funk
Christina is the Assistant Naturalist and owl handler at the Stage Nature Center. Christina was instrumental in bringing the owls to the SNC after the closure of the Organization for Bat Conservation, where the owls resided before they came to the nature center.
Fundraising efforts for the SNC Owls
We are asking all of our friends and supporters to consider making a charitable donation to the Troy Nature Society Owl Fund. Your generous contribution, however small or large, will help us with the continued long-term care of the five owls that call Stage Nature Center home. These owls have permanent injuries that prevent them from being released back into the wild and they now serve as ambassadors to their species to educate and inspire our community through programs for public and school groups. We hope that by providing them with a safe living environment and meeting their medical needs, they will continue to do so for the next 20 to 25 years. Your contribution is vital to sustaining the daily care these special raptors require. Thank you for your gift to the Owl Fund!
Owl Sponsorship Opportunities
Ask for a sponsorship form at our front desk
Premier Sponsorship
Sponsorship:  $1,000
Includes the following:
Private "Meet the Owls" Tour for up to five (5) guests
Certificate of support + 8×11 owl profile
Large owl plush 
National Geographic Owl Book
Gold Sponsorship
Sponsorship: $500
Includes the following:
Certificate of support + 5×7 owl profile
Small owl plush
National Geographic Owl Book
Silver Sponsorship
Sponsorship: $250
Includes the following:
Certificate of support + 5×7 owl profile
Owl Finger puppet
National Geographic Owl Book
Bronze Sponsorship
Sponsorship: $100
Includes the following:
Certificate of support + 5×7 owl profile
National Geographic Owl Book