Family Nature Explorers

Ages: All (best for 5 & up)

TNS Member: $15 for family of up to 4 people, $2 for each additional person

Non-Member: $18 for family of up to 4 people, $3 for each additional person

Enjoy some screen-free quality time for the whole family while exploring the natural world. Families will participate in hands-on, outdoor experiences that will inspire curiosity and a connection to nature. Together we will investigate different nature-related topics each month. Registration is on a month-to-month basis. Adults must remain with their children.

REGISTER BY SELECTING YOUR DATE & PROGRAM OF CHOICE BELOW:

Saturday, July 28th | 3:30 – 5:00 pm | Peek at the Pond

Join us in July as we explore the nature center's pond. We will use special dip nets to find the small animals living there, like young dragonflies, snails, crayfish and tadpoles

Wednesday, August 15th | 8:00 – 9:30 pm | Bat Walk

Join us in August as we hike into the nature center in search of bats and other nocturnal animals that live on the preserve.

Photo Walks by TNS Photo Club

Saturday, August 4 | Ages: All | 8-10 am | TNS Member: Free | Non-Member: $2

Guided hikes through the Stage Nature Center preserve. Meet in the parking lot by 8 am. Bring your camera. Dress for the weather since we will hold this walk rain or shine. 
---

Walk with a Naturalist
Thursday, August 2nd | 6:30pm - 7:30pm
Summer is a wonderful opportunity to explore the grounds of our nature preserve with a naturalist who can answer questions about the plants and wildlife, share fun facts about the natural world and how they relate to the nature around us.  Children 3+ are welcome but must be accompanied by a registered adult.
---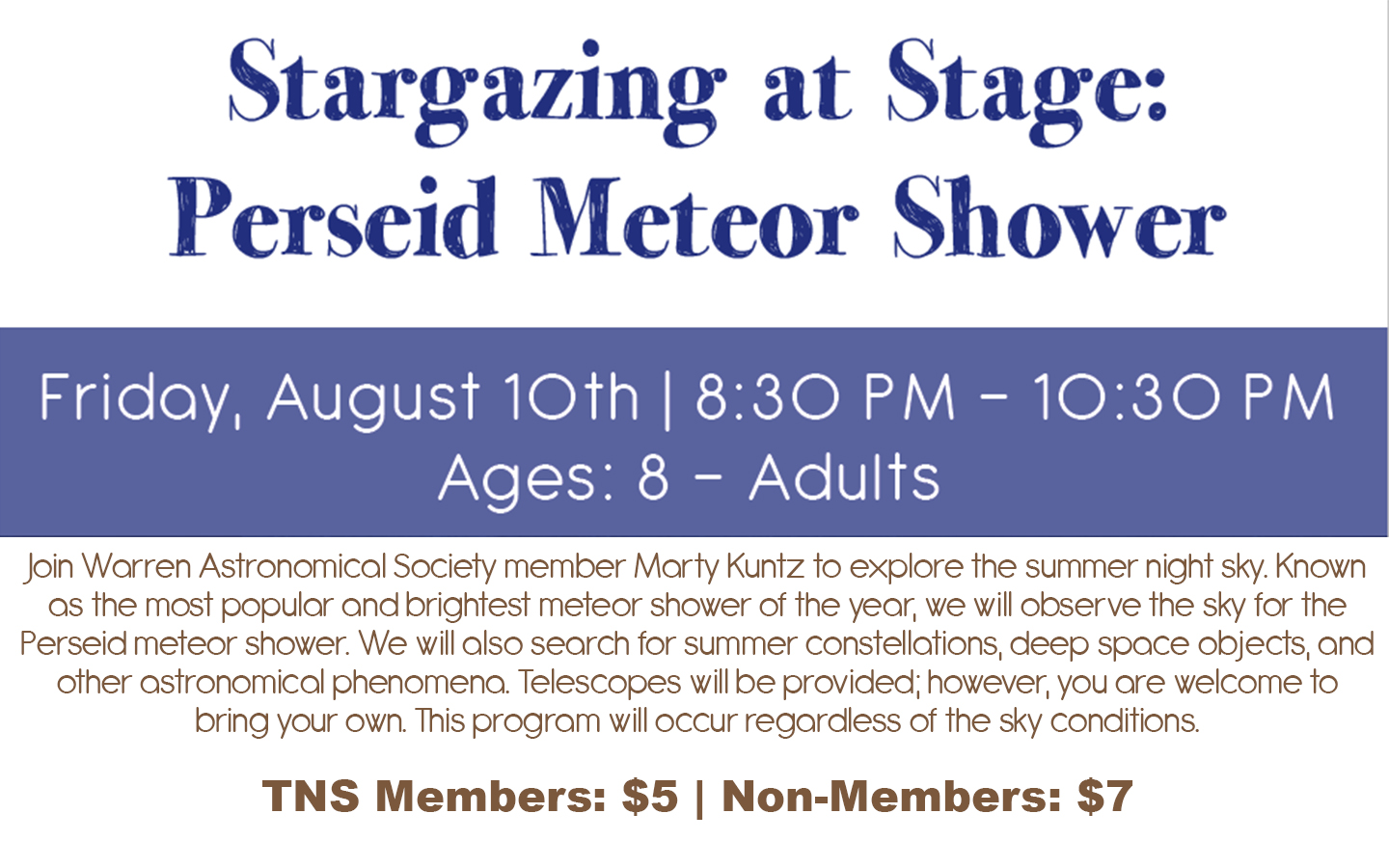 Stargazing at Stage: Perseid Meteor Shower
Friday, August 10th | 8:30-10:30 pm | Ages: 8-Adult
TNS Member Fee: $5 | Non-Member Fee: $7
Join Warren Astronomical Society member Marty Kuntz to explore the summer night sky. Known as the most popular and brightest meteor shower of the year, we will observe the sky for the Perseid meteor shower. We will also search for summer constellations, deep space objects, and other astronomical phenomena. Telescopes will be provided; however, you are welcome to bring your own. This program will occur regardless of the sky conditions.